One of my favorite books is "I'm Not for Everyone. Neither Are You" by David Leddick.
The title of the book alone is enough of a lesson for today…but I'll elaborate since you insist.
When you're trying to build a list of email subscribers, you don't just want everyone on your list. If your underlying business is offering a specific product or service, then you want email subscribers that could be interested in that specific product or service.
If you're for everyone, you're for nobody. You're taking a scattershot shotgun approach to marketing and everybody knows….there's no need for guns in marketing.
Makes sense right?
So, subscriber research follows a lot of the same principles as customer research. The advantage, however, is that they're a little bit easier to find and convert to email subscribers as opposed to customers.
Onward!
Where Does Your Ideal Subscriber Hang Out?
For instance, my business is in the audio production niche. Knowing the niche that I'm operating in makes it easy for me to eliminate almost everything else.
They're interested in audio production, ergo I'll go looking for them wherever there's audio production "stuff" going on.
That means:
No mommy blogs
No amateur chef sites
Not even the forums about plumbing
Unless the plumbers are forming a 50's rockabilly band called the Rockin' Roto-Rooters and they need to produce their own demo. Then maybe I could help them out.
Find Relevant Online Hangouts
There are plenty of niche-specific spots you can find your audience.
Facebook groups
Reddit forums
Other websites and blogs in the industry (making a note for potential guest blogging to increase my traffic)
LinkedIn groups
Hashtags on Instagram
Channels on Youtube
Think about who your ideal subscriber is, and then go find where they hang out online.
Research the Landscape
The best part about understanding the online spaces where your subscribers hang out is that you get direct access to what they're struggling with.
As you're going through these places, think about your subscribers'
Hopes and dreams
Fears and pains
Problems and struggles
It'll help you understand your subscriber better so you can serve them more effectively.
Also, subscribe to your competitor's newsletters so you can keep tabs on what people are up to. I'm on several audio production email lists and I follow a lot of online marketing blogs. Continuous education doesn't stop just because you graduated from college five years ago. If you want to stay competitive, keep tabs on the industry you're in.
And if you can help, by all means, insert yourself into the conversation if you can. Start bringing value to the table and offer your expertise before you start promoting your products and services.
Don't Be a Hawk
At conferences, you can always smell the sleazeballs on the sidelines that wait to pounce on you with their services.
Don't be that douchebag.
Be the person who likes having genuine conversations with people and sincerely tries to help. Don't immediately jump into a Facebook group and start hawking your high-priced services.
That's a one-way ticket to Pariah Status.
You're Not For Everyone (And That's Fine)
I tend to be unabashedly myself, and I'm very unapologetic about it.
I think you should too. If you are at your most authentic, you'll stick out faster than if you're trying to race to the middle of the road and be all vanilla.
Being very specific about who you are and who you serve doesn't mean that you're necessarily serving fewer people. It just means that people know exactly who you are and what you're offering.
For instance, there's this kick-ass girl called Ash who runs The Middle Finger Project. I LOVE her style and her writing. She's a bad-ass. However, I am NOT her target market, and that's fine. I still enjoy her writing because she's so authentically catering to her primary demographic (rockstar ladies mostly) and I can learn a lot from her because she's not afraid to be herself.
Your Turn
Homework?!? FTW?!
Oh yeah baddy! (that's my gender non-specific way of saying baby and buddy at the same time, natch).
Tomorrow we're going to talk about what value you're going to bring to your email subscribers, but before you do that, you gotta know who your audience is!
So here's your homework:
Find three places online where you can observe your audience in its natural habitat. Imagine you're Jane Goodall in the internet jungle, observing your audience.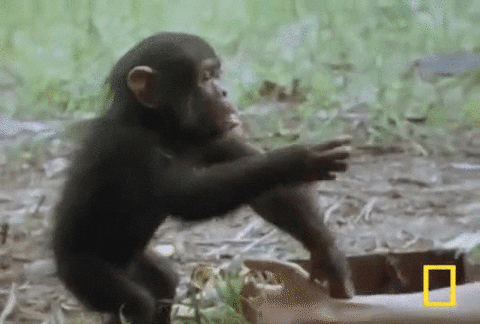 If you're reading this on the blog and aren't signed up to the email list, make sure you sign up below to get the next posts in the series.